In today's highly competitive business environment, standing out can be a daunting task. However, you can find more customers for your business by leveraging the power of customer reviews and testimonials. In this blog post, we will review specific ways to use client feedback to attract new customers and boost sales.

TLDR: Actionable Insights for Entrepreneurs
Build trust by matching the expectations customers have for your product.
Make it easy for them to leave reviews on your website or platform.
Respond quickly and professionally to both positive and negative reviews. This tells future buyers that you are a responsive seller.
Encourage customers to share images and videos of their interactions with your product or service.
Have a strategy for collecting customer reviews. Make it part of your sales process.
The Power of Social Proof
What Exactly is Social Proof?
Social proof is a psychological phenomenon where people look to others for guidance, particularly in uncertain or new situations. Reviews from clients and testimonials are examples of social proof in action. These reviews act as recommendations from former consumers; giving new buyers more confidence in their purchases. When other people endorse a product, service, or idea, it increases the item's perceived credibility.
I rely on customer reviews when shopping online. In fact, social proofing is what you do when you analyze the worst reviews on a product before making a purchase. I, for example, will buy a product if I can live with all the bad reviews left by previous buyers.
Amazon has mastered the art of using customer reviews to drive sales. The company introduced public customer reviews in 1995, shortly after it was founded. Their platform not only allows customers to leave detailed product reviews but also includes a rating system that quickly conveys the overall opinion about a product to potential buyers. Moreso, products with a larger number of reviews are often seen as more reliable, as they represent a bigger sample size.

Building Customer Trust
The foundation of a sustainable business relationship is trust which is built on honesty and fairness and to really harness the power of social proof, you need people to advocate for your product by leaving good reviews on your website or social media page. Although paid reviews are also effective for making sales, this article is for anyone building a long-term business.
Try these strategies to build trust with your customers
Open Communication
Always communicate with customers in an open and honest manner. Moreso, give detailed descriptions of your products or services.
Set Realistic Expectations
Avoid making exaggerated marketing claims and ensure that your customers understand what to expect when they buy your products.
Honest Pricing or Fees
Avoid any hidden fees or charges, and communicate any additional costs clearly.
Quality products:
Don't cut corners and match your customer's quality expectations.
Educate your customers:
Educate your customers on your products and services. Provide resources and information to help get the most benefit from using your product.
Lastly, take responsibility for any shortcomings and always work out a resolution for both parties.
How to Get Feedback from Customers
Make it Part of your Sales Process
For example, you can send buyers follow-up emails or offer incentives in exchange for their feedback. Make use of email automation tools to speed up the process. In your follow-up emails, ensure you include links directly to the review page so it's easy for them to assess.
Engage with them and demonstrate that you value their patronage. Moreso, respond to both positive and negative reviews in a timely and professional manner.
Make it Easy to Give Feedback
Make it easy for customers to leave reviews on your website.
Make the review submission process clear and simple so that customers can easily find where to leave a review.
Timing is Everything
Request reviews while the product is still fresh in the customer's mind. This could be a few days after they receive their product, allowing them sufficient time to use it.
Accommodate Your Customers' Preferences
Allow your customers to submit reviews via a variety of channels, including email, SMS, social media, and your website.
Send Review Reminders
Send follow-up reminders to customers who did not leave a review initially. But keep your reminders polite and unobtrusive.
Aggregate Reviews
On product pages, display an overall rating or a summary of reviews, making it easier for customers to see what others think. And people are more likely to leave reviews if they can see other reviews for the product.
Leverage User Generated Content
Testimonials from real people go a long way in convincing potential buyers. This can include photos, videos, and even audio clips shared on social media. In some cases, customer-generated social media content. For example, a customer wearing the dress you made while giving a seminar or at a family function. This provides an authentic representation of your product or service in action. When potential customers can see and hear real people discussing your products, it helps them visualize the benefits.
Share Case Studies and Video Testimonials
You might be able to share case studies on your website or social media page. Highlight success stories that demonstrate how your product or service has had a positive impact on customers. These case studies provide detailed examples of how your offerings solve real-world problems, giving potential buyers confidence. I've seen a number of these on social media, so don't be afraid to reach out to customers for video testimonials.

Work with Influencers and Content Creators
Consider forming collaborations with social media influencers or industry experts who can provide feedback on your products or services. Their support can significantly boost the visibility and credibility of your brand. Choose influencers whose followers share similar demographics as your target market. You may get a sense of an influencer's audience by randomly reviewing the profiles of people who like and comment on some of their previous posts.
Manage Reviews Across All Platforms
Monitor customer reviews on platforms like Yelp and Google Maps. These applications also provide notification settings that inform you when a new review has been posted. Enable these notifications so you can respond as soon as possible. If a client has left a poor review because of a specific issue, use the opportunity to fix the problem and once the problem is fixed, ask the consumer to consider updating their review.
---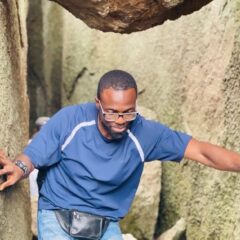 I'm passionate about growth.
I like it for others and I love it for myself.
My vision for the future is that people and businesses have the tools they need to thrive; a sound mind and a healthy body.
My favourite quote is, "What you carry is what defines you."
All author posts