Marketing is an important part of any organisation, regardless of size or industry. It is vital in reaching out to potential customers, raising brand awareness, and increasing sales. However, without a strong marketing plan, all marketing efforts may be futile. In this article, you would learn how to create a marketing plan that will ultimately lead to increased sales.  An analysis of failed start-ups found that 22% of businesses surveyed failed because they did not implement the correct marketing strategy.
What Exactly is Marketing Strategy?
A marketing strategy is a detailed plan that details how a company will reach its target audience and meet its marketing objectives. Analysing the market, defining the target audience, generating a unique value proposition, and developing a marketing mix that incorporates the 4Ps (product, pricing, promotion, and location) are all part of it. A marketing strategy assists a company in staying focused on its objectives, allocating resources effectively, and measuring the efficacy of its marketing efforts.
How to Create a Marketing Strategy for Your Business
Identify Your Target Market
The first step in developing a successful marketing plan is identifying your target demographic. You must understand who your customers are, what they want, and how to reach them. You can start by creating a user persona for your product.
A user persona is a hypothetical character who embodies the demographics, actions, motives, and pain points of your target audience. Understanding your target market is important for developing a successful product or service. Creating a user persona allows you to zero in on your target audience. It also assists you in scoping your initiatives in a way that your clients will understand and value. For example, does your target audience prefer blog articles or short-form videos?
Define Your Unique Value Proposition
Your unique value proposition (UVP) is what distinguishes you from the competition and allows you to stand out in the market. It is the reason buyers should select your goods or service above others. To define your UVP, you must first assess your strengths, weaknesses, opportunities, and threats (SWOT analysis) and determine what makes you distinctive. Also, it's important to incorporate your product's benefits, user experience and user needs in writing your UVP statement.  Your unique value proposition (UVP) should be clear, simple, and compelling enough to attract and keep clients.
There are several templates you can leverage to write your unique value proposition.
[Product/Service] is the only [category] that provides [unique benefit] to [target audience].
For example, our decomposable hand purses are is the only eco-friendly option for green fashion lovers.
We [unique feature] to help [target audience] achieve [desired outcome].
For Olutobi.com, it will be Actionable Insights for entrepreneurs looking to launch and scale their ideas
[Unique differentiator] for [the audience] looking to [goal]
Even if you are yet to figure out your unique value proposition,  you can still invest in marketing if you know your target market and what they want.  Pen down your strengths and the market opportunities.
Set Smart Marketing Goals
After you've identified your target audience and defined your UVP, you should set SMART marketing goals that are in line with your overall business objectives. Specific, measurable, attainable, relevant, and time-bound goals are known as SMART goals. They should be based on market research data and insights, and they should be linked with your UVP and target audience.
Maximize Your Resource
If you are a single-person business, then you have to maximize your time.  The ultimate goal of marketing is not visibility but conversion. However, visibility is always a good place to start. For example, for olutobi.com, I'm focused on visibility through Q2 and Q3 of 2023. My goal for Q2 is to increase the number of blog pages on Google Search Console to 100. This is an SEO optimization strategy which forms a part of my overall marketing strategy for the website.
Set Conversion Goals
Before you can convert website visitors into customers, you must first define what a conversion is. Is it a lead form submission, a sale, or something else? Determine your conversion objectives and set clear targets for them.
Optimise Your Website
Your website must be conversion-optimized. This includes having clear calls to action, simple navigation, and a user-friendly design that guides visitors towards your conversion goals.
Build a Strong Online Presence
In today's digital age, you must have a strong online presence for your business or idea. This includes having a professional website or landing page that represents your business and highlights your products or services, and connecting with potential customers by sharing content on social media.
Social Media is the Top Marketing Channel for Marketers
Social media has evolved into a crucial marketing tool for companies of all kinds. With over 4 billion active users globally, social media provide businesses with a strong tool to engage with their target audience, develop brand awareness, and generate traffic to their websites.
Other digital marketing strategies include:
Email marketing
SEO Marketing
Define Social Media Marketing Goals
Do you want to raise brand awareness, create leads, drive traffic to your website, or enhance sales? Your objectives will guide you in deciding which social media channels to use, what type of material to develop, and how to measure your success.
With so many social media networks to choose from, it's critical to select those that are most relevant to your product and target demographic.
If you are looking at promoting fast-moving commodities, then you should focus on Facebook and Instagram.
Similarly, if you want to reach a younger audience, you should concentrate on sites like Instagram or TikTok. LinkedIn may be the greatest option if you're looking to target professionals.
Create Quality Content
Creating high-quality content is important for engaging your audience and driving social media engagement. Ensure your information is timely, valuable, and visually appealing. To keep your audience interested, use a combination of photographs, videos, and text.
Don't just create content. Create content that is targeted and based on research (Keyword research)
According to a report by Hubspot marketing, the most effective content for conversion is FUNNY, accounting for 80% of customer KPIs including comments, follows and social sharing.
Other effective content themes include:
Interactive content including live gaming, quizzes and Q/A sessions – 77% Effective
Authentic behind-the-scenes content – 68% effective
Relatable content – 67%  effective
Content that reflects brand values – 63% effective
Trendy content including leveraging Tiktok dances and voiceovers – 61% effective
Educational or Informational Content – 57% effective
Leverage the Creator Economy
The creator economy has evolved as a new business model, providing organisations with a strong approach to using the power of social media influencers, content creators, and other creative professions.
One of the most common strategies for businesses to harness the creator economy is to collaborate with influencers and creators. Influencers and creators have enormous social media followings, and collaborating with them can help businesses reach new audiences and create brand awareness. Businesses can work with influencers and creators by sponsoring posts, developing branded content, or hosting giveaways.
Encourage User Generated Content
UGC is content provided by fans, followers, and customers that businesses can utilise to promote their brand. User-generated content (UGC) might take the shape of images, videos, reviews, or testimonials. Businesses can motivate their customers to create UGC by holding contests, employing hashtags, or providing rewards.
Consider virality and Thought Leadership
Creating viral content is the holy grail for many marketers and businesses, as it can lead to massive exposure and engagement with a brand's target audience. Viral material frequently capitalises on current events, trends, or cultural moments. Keep up with the latest news and trends, and be prepared to adjust your content approach accordingly. You can also build thought leadership. You can position yourself as an expert in your subject or sector by creating and sharing information that provides insights, expertise, and unique viewpoints on industry trends and difficulties.
Break Your Marketing Plan into Quarterly Goals
This involves establishing specified, measurable, achievable, relevant, and time-bound (SMART) goals for each quarter of the year to assist direct marketing activities and track progress towards bigger business goals for the year. This can include various KPIs including conversion and sales.
To conclude,
Digital Marketing is the easiest way to access potential customers and create brand awareness that eventually leads to conversion and sales. Creating high-quality, authoritative content that fits the expectations of search engine users and can help generate traffic to your company's website. It is also beneficial to break down your marketing plan into quarterly targets, which can assist you in staying on track and can be adjusted based on changes in the market environment.
---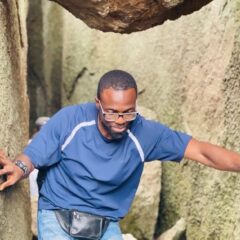 I'm passionate about growth.
I like it for others and I love it for myself.
My vision for the future is that people and businesses have the tools they need to thrive; a sound mind and a healthy body.
My favourite quote is, "What you carry is what defines you."
All author posts