What's the Value Of Owning a Blog?
A blog is an opportunity for your business to share information and expert knowledge that customers need. It's a means of attracting new customers by providing information that solves their problems. It is an inbound marketing strategy that attracts customers to your storefront. It combines the art of content creation with search engine optimization.
How Blogging Can Help Your Business
Customers generally go through five stages when connecting with a brand or a product. These stages are awareness, consideration, decision, retention and loyalty. You can use blogging at each of these stages.
Create Awareness
When customers are trying to solve a problem, they search online for answers and that's where blogging comes in. You can write articles or produce other forms of digital content that address their needs or pain points. Over time, customers will rely on your website or social media as a trustworthy resource for solving their problems. This will help to nurture leads, guide them through the sales funnel, and ultimately drive greater inbound sales.
A local pet grooming shop, for example, can publish blog posts optimised for keywords such as "best pet grooming techniques" or "dog grooming tips." This method increases their chances of ranking higher in search results when people search for related topics, resulting in more exposure and possible clients.
Improve Consideration
Beyond creating awareness, you can use blogging to persuade potential customers to buy your product or service. At the consideration stage, customers are actively exploring and evaluating possible solutions. You can write articles that highlight the unique features of your products or services, you can also provide in-depth tutorials, or highlight case studies. Here, you are using content marketing to address the typical objections or concerns potential customers may have.
Improve Decision Making
Shopping websites improve buying decisions by publishing product reviews. You can also share success stories and consumer testimonials. The goal is to provide social evidence that will catalyze the buying decision.
Retain Customers
Blogging is still helpful after a buyer has made a purchase. You can create additional resources, and offer ideas or assistance on how to make the most of their purchase. You can also create help articles to support customers in case they encounter problems while using your product. This can improve customer loyalty, drive repeat purchases, and potentially generate referrals through word-of-mouth marketing.
Increase Loyalty
You can use blogging or content creation to showcase your customers. Many people like this. It is important to note that people become loyal after experiencing success with a product – if it works, they are likely to recommend your product to others.

How to Step Up a Blog for Your Business
Define Your Audience
Define your audience and understand their wants, problems, and interests. You could develop a user persona to help stay focused while creating content. A user persona is a semi-fictional character of your existing or ideal consumer. They represent the demographics, actions, motives, and pain points of your target audience. It's also important to know how your customers are currently interacting with social media and how they generally find new information.
Define Your Blogging Goals
There is no shortage of good marketing ideas, but you should be able to tie those ideas to specific goals. So, you should define your goals before you begin blogging. Do you want to raise brand awareness, improve website traffic, create leads, or increase sales? Understanding your goals will inform your blogging approach.
Create a Content Strategy for Your Blog
Determine the type of content you want to share. There are several options including how-to guides, product reviews and industry insights or news. Next, create a content calendar to ensure you are constantly providing new information. To provide value to your readers while marketing your products or services, consider using a mix of instructive, entertaining, and promotional content. You can also automate publishing using scheduling tools like Buffer. Most social media platforms now have scheduling features, so you don't have to publish content in real-time.
Perform Keyword Research before Blogging
Keyword research is a way of assessing how viable a content idea is, based on its popularity. If nobody is searching for that keyword (or idea), you should reconsider investing time and effort in developing the associated content. You can use tools like Google Keyword Planner, SEMrush, or Moz Keyword Explorer.
Produce Interesting and Informative Content
Start producing high-quality, educational, and entertaining content that highlights your expertise and tackles the pain points of your target audience. Each blog article should have a clear objective and should provide value to readers. To make your material aesthetically engaging and shareable, consider combining text, images, videos, infographics, and other media formats. To improve readability, use attention-grabbing headlines and employ subheadings, bullet points, and paragraphs.
SEO-Optimize Your Blog Posts
Use search engine optimisation (SEO) techniques to boost the visibility of your blog in search engine results. Most importantly, ensure your blog or website is indexed by Google, otherwise, nobody will find it. Sign up on Google Search Console, link your website and submit your blog articles for indexing.
Moreso, include your keywords in blog posts titles, headings, URLs, meta descriptions, and throughout the body of the article. Check that your blog is user-friendly (large legible text), and has a quick loading time. Include alt language in your photographs, interlink your blog entries, and encourage other websites to link to your content.
Here's a checklist to ensure your blog articles are search engine optimized:
The length of your articles should be at least 1,000 words.
Segment your blog post using H2 and H3 headers.
Ensure you have a meta description for your article.
Ensure you link your articles to other relevant internal and external pages
 Ensure you are always writing about topics relevant to your business. The more homogenous your website, the better your chances of being found.
Market Your Blog
Share your blog entries on social media and email newsletters. Always announce whenever you have new content.
Mention influencers or industry experts in your blog pieces or reach out to them for partnership opportunities. Use guest blogging to provide useful content to other websites while linking back to your own. Add social sharing buttons to your blog entries to encourage visitors to share your material.

Communicate with Your Audience
Respond to comments, answer questions, and encourage interactions with your readers. By actively connecting with your audience, you can create a community around your site. Encourage readers to sign up for your newsletter to receive updates and new content. Consider including a call-to-action (CTA) at the end of each blog post to encourage readers to perform the desired action which could be buying something.
Track Your Performance
To determine whether your content is producing the desired results, you need to track their performance. Social media platforms like Instagram, Linkedin and Facebook have analytic features to help your performance assessment. You can also use Google Analytics.
---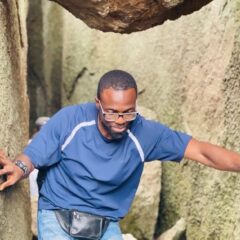 I'm passionate about growth.
I like it for others and I love it for myself.
My vision for the future is that people and businesses have the tools they need to thrive; a sound mind and a healthy body.
My favourite quote is, "What you carry is what defines you."
All author posts