Bagging a Masters In Business Administration
I decided to focus on entrepreneurship studies for my MBA because it was the easiest focus area in the program. Regardless, I had no intention of practising entrepreneurship afterwards.  I just wanted something easier to learn after semesters of studying courses like accounting, marketing, and business law.
Not long after the program,  I started a small venture selling kitchen-use products and water bottles. It was a business based on just flipping things online. I would buy cheaper in the actual markets and sell for a profit online.
The enterprise was named "Tiny PreciousThings". The idea was to curate a collection of home use items. Things like gas lighters, water bottles, and thermos flasks. I started exploring the Lagos Island market (precisely the market called "Corudum") for these items.  Unfortunately, this business is only profitable when I have large orders. So it has morphed into a souvenir supply business.  Last Christmas, I made hampers and supplied branded thermos flasks to a pharmacy.
Creative Styling and Art Direction
The other entrepreneurial effort is in creative fashion styling which I have been doing as a side hustle since 2014. I consult for fashion businesses looking to create advertisement campaigns and catalogues of their products. It gives me the opportunity to meet and interact with other creative people (photographers, hairstylists, and make-up artists). However, I would love to be able to charge a lot more than I currently do for my services.
Last Christmas, I styled knowledge-preneur Stephanie Obi for a Christmas Lookbook by the fashion House, Design for Love; and we talked briefly about how I could create my own online course in fashion styling. So, that discussion got me thinking about creating content again. I've been trying my hands on blogging for some years but I think this time I am ready to go all in.
Building Olutobi.com
The long term objective for me is to be able to create digital content products that customers would be interested in paying for. My strongest writing flair is in personal development, so I'm focusing on that niche at the moment as I build skills in content development and sales.
The content available on the internet is part of what makes it such a great tool and this only goes to show that content creators are an important part of this information era. I started out selling kitchen wares but right now, I am more interested in creating good and marketable online content.
---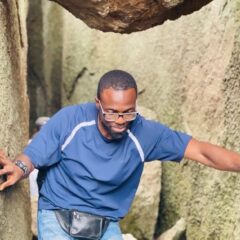 I'm passionate about growth.
I like it for others and I love it for myself.
My vision for the future is that people and businesses have the tools they need to thrive; a sound mind and a healthy body.
My favourite quote is, "What you carry is what defines you."
All author posts