Dear Fresh Grads,
I know you are eager to get a job and earn money. And In case you are apprehensive about the future, I encourage you to keep calm. Everything will be OK, eventually. It's been a decade since I left Uni. and what I know for sure is that these tips below will help you get a job or get a better job especially if you live in a very competitive city like Lagos, Nigeria.
1. Use Your Network or Your Extended Network. 
Everywhere in the world, networking is important. In fact, it is a cardinal tool for getting your first job and climbing up the professional ladder. In my opinion, use your network but don't depend on your network. You should be looking out for people who can land you interviews or provide you information about job openings:
1. Your parents, siblings, uncles, and aunties.
2. Your former classmates from Uni.
3. Friends from the gym, volunteer organizations, and other social groups.
4. Linkedin.
2. Your grades. 
Yes, your university degree matters. Most organizations will only accept applications from first class and second class degree holders. So if you have a third class, you have to use a different strategy altogether which might include getting a post-graduate diploma, taking relevant certifications in your field, and networking directly with insiders in the company you are interested in working for.
3. Apply For Thousands of Jobs: 
Getting a job is serious and Lagos is such a competitive place, so you might need to accept the fact that the process might be tough. Give yourself a ridiculous goal like 5000 applications and please don't be discouraged by rejections or by colleagues landing jobs while you are still searching.
4. Adapt Your CV For the Job
Google is your friend. Search for newer CV formats or presentation styles. Adapt your CV to the job market in view. Use relevant professional keywords in your work history- especially in describing your previous experience or duties. Be precise in the way your CV is worded.
5. Volunteer/Intern:
Everybody is chasing money but trust me, you need to rate exposure and experience above income as a newbie. Search for local internship positions (even the non-playing ones) and select the best. Money is important ( "exposure" doesn't keep the lights on) but having a big corporate name on your CV paints a certain picture in the head of your interviewer and this is to your advantage.
Also, volunteering in your field makes it easier for you to know about job openings that may not be advertised.
6. Prepare for interviews/Tests.
Don't wing anything. I made the mistake of not preparing for interviews as a newbie in the job market and I just wasn't getting hired. Research how to answer interview questions, practice by recording yourself, and replay those recordings so you know how to improve your answers.
Practice for those graduate assessment tests too. "I can speak English" is the reason some people have written IELTS six times.
Thanks for reading these tips. I wish you courage and Grace
---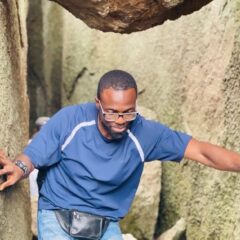 I'm passionate about growth.
I like it for others and I love it for myself.
My vision for the future is that people and businesses have the tools they need to thrive; a sound mind and a healthy body.
My favourite quote is, "What you carry is what defines you."
All author posts