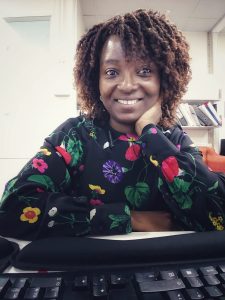 OL: Hello Osibomu.
OP: Hello Tobi.
OL: What do you do?
OP: I'm the Procurement and Supply Chain Lead for UK's biggest Compounding Pharmacy.
OL: How long have you done this?
OP: Well, this role? I'm one year in but I'll be 4 years in the procurement and supply chain industry by November.
OL: Well, congratulations. So, what did you study in school versus what do you do now?
OP: I studied Pharmacy. My postgrad was in Pharmaceutical Science and Management Studies but I'm in the supply chain business now. Although, still within the pharma industry.
OL: Do you like your current job?
OP:  I love it.
OL: Awwn…Nice. So, what do you like about it?
OP: I like that I'm creating solutions, making big savings at a time when prices are rising, putting us on the forecast and R&D radar of big raw material and brand manufacturers. I also love that I can #flexiwork for work-life balance.
OL: Seems like some cool technical stuff! Do you hate anything about it?
OP: I hate that sometimes processes are long because they've not been digitalized.
OL: What gets you excited about your typical work day?
OP: Tasks that are straightforward and supported by data. Data makes my life easier.
OL: Do you have a morning routine?
OP: Yes
OL: Do you think having a morning routine is important?
OP: Yes. You?
OL: I don't know, honestly. I have a coffee once I'm up and then I organize my to-do for the day.
OP: Sorry, ask your next question.
OL: Yeah right. Work from the office or Work from Home?
OP: Home
OL: Really?
OP: The distractions are limited, and I can achieve more.
OL: What drives you crazy about your job?
OP:  Lack of communication.
OL: That would rank high for me as well. Communication is important. My next question is,  How long is too long at a job?
OP: Honestly, No idea.
OL: Really Bomu?
OP: I don't think it's a straightforward answer; unless a person generally has commitment issues. So, it could be one year or five years. It all boils down to whether a person is satisfied with a role.
OL: Fair enough (Laughs).  Next, we talk about salary negotiations. Do you think people should always negotiate their salaries?
OP: Yes. No employer brings the maximum budget to a salary discussion.
OL: Ha!
OP: What?
OL: Honestly, It's scary to negotiate an offer when you are desperate for a job.
OP: Even when desperate, there's always what a person would consider a minimum offer. It may not even be a salary in every instance. it may be the benefits. Life insurance, health insurance with eye and dental coverage. #workfromhome opportunity,  paid training and so on.
OL: So, did you negotiate your current salary?
OP: Yes I did.
OL: Have you ever lost an offer because you negotiated the company's offer?
OP: No.
OL: Would you take a great salary at a toxic workplace?
OP:  Not at all. I can't work in a toxic environment unless I'm somewhat insulated from it. For example, the CEO of a big corporation may be toxic but that may not trail down. For me, taking a role isn't just about a great salary offer, it's ensuring every base is covered.
OL: I agree with you completely. What company values do you look out for when applying for work or interviewing?
OP: Character, Competence, Culture.
OL: How do you know it's time to change workplaces
OP: When I start getting dissatisfied, unhappy, and anxious about work.
OL: What moment has been life-changing for you, work-wise?
OP: Starting afresh in a completely unexpected and new field.
OL: Must have been nice.
OP: It was.
OL: OK, Should people participate in office politics?
OP: No.
OL: Oya! Share your perspective.
OP: Do your job well, work with integrity, and acquire certifications or skills that give you a chance for a promotion or a raise. If these don't get your desire, then send out your cv.
OL: Oshey Baddest!  You are on point. Ok, next question. What makes a great boss?
OP: One who spurs you to do your best, encourages growth, and compensates/rewards timely.
OL: Hmmn. Do you use any digital work tools?
OP: Yeah, a number. Teams, Zoom, Notion, Slack
OL:  How do you stay productive?
OP: Sticking to 70% of my to-do list.
OL:  How do you relax?
OP: Lol. Hard one these days. I think sleep has become my best form of relaxation.
OL: Are you learning anything at the moment?
OP: Power Bi.
OL: That's impressive. Well done.
OP: [Nods] Thanks.
OL: Top 3 soft skills everyone needs to move ahead in their work life. Go!
OP: Communication, Teamwork and Creativity.
OL: If you were to choose a different life, what would that be?
OP: Create a Procurement #SaaS that becomes global so that I can finally move into the role of Procurement consulting, and spend more time (when I'm not with my family) writing inspiring books for young people.
OL: That's so admirable. And you can.
OP:  I know right?
OL:  We are almost at the end. Tea or Coffee?
OP: You mean which I prefer?
OL: [Nods] Hmmn Hmmn.
OP: Tea (decaffeinated). Who would have thought black tea was responsible for the insomnia I suffered for almost a decade?
OL:  I'm so sorry to hear.
OP: It's OK, it's not that deep (Laughing).
OL: (Laughs). So my last ask is for you to send a message to your younger self.
OP: Don't wait for it to be perfect before launching. It's easier to build on it once you've started than to get a perfect project that first time. All your dreams to make the world better are valid even if they all seem so unrelated and different.
Osibomu Popoola is the Procurement and Supply Chain Lead at Specialist Pharmacy UK; the nation's leading compounding Pharmacy. Prior, she was a purchasing officer at the International SOS.  She has more than 10 years of experience working in high Impact positions across the pharmaceutical industry. In 2021, She published her first work of literature; Bloom and Other Stories, which is a collection of stories that explore human behaviour and reaction to life, death and loss, challenges and victories, lessons and growth. Connect with her on Linkedin 
---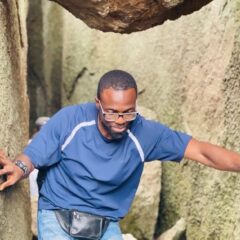 I'm passionate about growth.
I like it for others and I love it for myself.
My vision for the future is that people and businesses have the tools they need to thrive; a sound mind and a healthy body.
My favourite quote is, "What you carry is what defines you."
All author posts