The pandemic brought a lot of changes to technology and connectivity.  Ecommerce sales in 2020 exceeded expectations, accounting for about 21 per cent of global sales.  According to one report, shoppers in the United States spent $861.1 Billion online in 2020 alone. The US eCommerce growth estimate is said to be the highest in two decades. With online shopping fast becoming the new normal, even here in Nigeria,  it might be time to open your online business and start earning some money.
Below, I share the steps in setting up your own eCommerce store.
What to Sell Online
First, you have to figure out what to sell. Although you can sell anything online, you shouldn't. The trending products to sell in 2021 include:
Fashion items for women
Beauty products
Fitness fashion products for women
wearable devices including smart wristwatches.
Phone accessories including Phone tripods and microphones
Shoes for men and women.
Food and drinks
Carry Out Key Word Research
Now that you have figured potential items to sell, you need to do some product research on google to increase your chances of success
What is the potential market size? The bigger the better.
Who are your competitors and what are their strengths and weaknesses?
Who are your target customers and how do you reach them?
What is your product's size and weight? The lighter, the better.
How durable is your product?
Does your product serve a passion, relieve pain, or solve a problem?
How much will you sell the product? Stay in the middle. Not too expensive and not too cheap.
Are you trying to sell perishable items? How would you ensure freshness and reduce spoilage?
Building Your Website
Next, you build your website and all you need is a domain name, website hosting, and some sort of eCommerce website builder. Even without design and coding skills, you can have your online store running in a few days. FYI, I built this website myself. I just modified a WordPress template. You can also use Shopify 
Once you are all set up, you need to put a lot of weight into digital marketing. Your aim should be to drive traffic to your online store.
Spread the Word to Your Network
Some of your first buyers would be your existing friends and family. Promote your products on your existing social media accounts and ensure you have the link to your website in your bio. Leverage all your personal social media accounts: Instagram, Facebook and Twitter.  How often you should post will depend on the number of followers you have. But generally, you should post at least once a day on these platforms.  Again, these posts can be scheduled for later using mobile applications or websites that allow you to plan your social media marketing ahead of time.
Paid advertising on Facebook and Instagram
You have to spend money to make money, especially if you want to enter the big leagues of online selling. Ads are targeted to reach potential buyers.  The longer you advertise, the better your outcome.
Coming up with Content For Social Media Marketing
What tools to use:
A lot of us use Canva and I definitely recommend it as well. The website has a lot of templates to choose from and adapt.
Some Social media trends in 2021
Focus on inclusion/representation/diversity:
The days of perfect beauty standards for advertising are gone. People want to see people who look like better versions of them in ad campaigns.
Videos and Images:
People who are combining video content with imagery are seeing more customer engagement compared to those using imagery alone. Make use of Tiktok and Instagram Reels- and try to entertain your audience while you promote your products.
Create Interactive content such as quizzes, polls and contests.
Micro influencing:
Micro influencing is an emerging niche in social media marketing. A micro-influencer typically has a modest number of followers. They could be any regular person with a niche interest. Get these people to try your products and give their honest reviews. They are also great for creating content, especially if you sell fashion items.
Engage/ Build your community – personalized marketing
You are not just selling products, you are offering value.  For example, you are not just selling water bottles, you are beckoning people to drink more water and take care of their health.  So, aim to develop a community of people with the same goals based on the products you are selling.
Use your Insta stories to tell stories.
Finally, Let's highlight logistics and Customer Support
Order fulfilment is just as important as marketing. You have to engage your customers properly to ensure that they get the right products. Also, be courteous in your approach and communication.
In terms of deliveries, the most popular practice is to outsource logistics to 3rd party logistics companies.
For example, DHL, Gokada or Kwik delivery. Make sure you are tracking with these guys and the customer until the order is delivered and the customer has confirmed OK
Well, that's online selling in a nutshell. I can't wait to hear about your eCommerce success stories. All the best.
---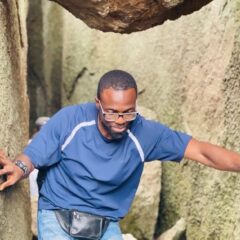 I'm passionate about growth.
I like it for others and I love it for myself.
My vision for the future is that people and businesses have the tools they need to thrive; a sound mind and a healthy body.
My favourite quote is, "What you carry is what defines you."
All author posts