What is Scrum?
Scrum is an agile framework for delivering products in complex environments. "Environment" here refers to all the factors that contribute to the success or failure of a product. Scrum Masters are in charge of putting the framework into practice within their teams and scrum certifications are a popular job requirement in the software industry. The Scrum Master ensures that the team follows the scrum principles and their duties may include:
Facilitating Scrum Events
The Scrum Master facilitates Scrum events including the daily stand-up, sprint planning, sprint review, and sprint retrospective. Please note that it's not compulsory for the Scrum Master to attend the daily stand-up.
Coaching the team
The Scrum Master educates the group in agile principles and techniques and works with them to continuously enhance their procedures.
Promoting collaboration
The Scrum Master fosters a culture of openness and transparency by encouraging collaboration and communication among team members.
Facilitating self-organization
The Scrum Master assists the team in becoming self-organizing and encourages team members to take ownership of their work.
Overall, the Scrum Master is crucial in ensuring that the team can work efficiently and effectively within the Scrum framework.
Why Is the Scrum Certification So Important?
Most Job descriptions for I.T Project or Product managers list a Scrum Certification as either a preference or a requirement. It is widely recognized in the software industry. However, I was able to pivot to IT project management without having a Scrum certification.  I was in the process of preparing for the exam when I got hired but I was able to highlight transferable skills from my previous position as a regulatory affairs Project manager.
I passed my Scrum certification exam by:
Reading the Scrum Guide.
Practicing Open Assessments on Scrum.org
Practicing Free Online Scrum Tests
Reading The Scrum Guide
This is the source for all things Scrum. It is crucial to read it carefully if you want to understand the framework's guiding concepts, beliefs, and practices. The language used in the booklet will be used on the exam, so be very familiar with it. Please read it a number of times. In fact, reading it a hundred times would not be overkill.
The actual exam is like an English exam. For example, the fact that the guide says you should do something does not mean you must do it. Many questions will test how familiar you are with the guide. It's apparently not enough to have a good understanding of the guide, you have to take note of how sentences are phrased in the guide.
Practicing Open assessments on Scrum.org
The open assessments provided by Scrum.org can help you prepare for the real exam. The open assessment is a good start but the actual exam is 2-3 times tougher than the open assessment. The results of open assessments are immediately available, allowing you to assess your level of understanding and identify areas for improvement.
Practicing free online Scrum Tests
There are several websites offering free tests. To be honest, most of them are not very user-friendly but I used them anyway.
These two Scrum practice websites were good: test-questions.com and mlapshin.com
To start, try test-questions.com
I also used mlapshin.com
mlapshin.com was rather useful. I practiced here a number of times, reviewed the questions I missed and based on those re-read certain sections of the Scrum guide.
It's important to keep in mind that while these online tests can be a useful tool in getting ready for the Scrum certification examinations, they shouldn't be the only method of getting ready.
How Much Does the Certification Cost?
It costs 150 USD. But I got a discount of 40% courtesy of Google. So if you complete the free Google Project Management certificate on Coursera, you'd get a lot of freebies to help you launch as a project manager including discounts on certifications and free Interview prep.
Use the Learning Path on Scrum.org
When you sign up on Scrum.org, you are assigned a learning path. It's a list of articles and videos to help you prepare for the exams. It covers a wide selection of resources that cover everything from Scrum's fundamentals to more complex subjects like scaling Scrum and applying Scrum in situations other than software development.
How Would I Know I'm Ready to Take the Scrum Exam?
Self-Assessment:
Compare your knowledge by taking the sample questions (the open assessments). If you consistently, pass the open assessments, then you are almost ready for the exam. Scrum.org provides these resources to assist you in determining your exam readiness. Also, take those tests on mlapshin.com. the higher your score, the better your chances of passing the Scrum exam.
Scrum Exam Day Tips
While it's important to get ready for the Scrum exam, having a game plan for the actual exam day is key. To help you ace your Scrum exam, consider the following advice:
Make sure your internet is good and your laptop is charged.
If you are a coffee person, have some coffee before you start.
It's an open exam but time is of the essence. Manage Your time
Some of the questions are long.  Read them aloud. Reading aloud improves mental focus and comprehension in high-pressure situations.
Have a good night's sleep
 Stay Calm.
In Conclusion
Your chances of receiving an interview and, ultimately, a job as a Scrum Master will improve when you pass the PSM 1 exam. So, It is imperative to become familiar with the Scrum handbook, practice open assessments, and take free online Scrum tests if you want to pass the examination.
Here's my badge. Now go get yours. I wish you all the best. You've got this.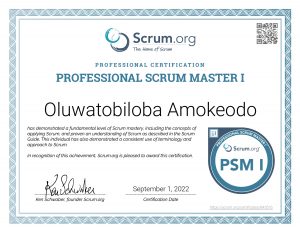 ---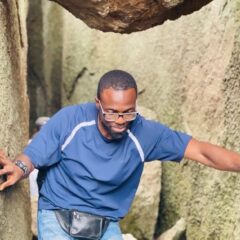 I'm passionate about growth.
I like it for others and I love it for myself.
My vision for the future is that people and businesses have the tools they need to thrive; a sound mind and a healthy body.
My favourite quote is, "What you carry is what defines you."
All author posts