Scrum is an agile framework for delivering products in complex environments. "Environment" here refers to all the factors that contribute to the success or failure of a product. Scrum certifications are popular in the software industry, especially for project managers. Because of my interest in tech product management, I've eyed the PSM1 (professional Scrum Master 1) certification for a while.
Is Scrum for You?
Well, the simple answer is that it depends. Most Job descriptions for I.T Project or Product managers list having a Scrum certification as either a preference or a requirement. However, I've been able to pivot to project management without having a Scrum certification. In my case,
 I've done more than 5 years delivering complex projects as a regulatory affairs project manager.
I was recommended by someone for the job.
Still, I would say that having a Scrum certification could increase your chances of getting an interview.
So, I passed my Scrum certification exam by:
 Reading the Scrum guide.

Practicing Open assessments on Scrum.org

Practicing free online Scrum tests.
Reading The Scrum Guide.
You have to become very familiar with the scrum guide.
Read it a number of times. I didn't read it 100 times but reading it a hundred times would not be overkill.  The actual exam is like an English exam. For example, the fact that the guide says you should do something does not mean you must do it. Many questions will test how familiar you are with the guide. It's apparently not enough to have a good understanding of the guide, you have to take note of particular words in different sections of the guide.
Practising Open assessments on Scrum.org.
The open assessment is a good start but the actual exam is 2-3 times tougher than the open assessment.  But I practised a number of times and it gave me an indication of when to take the actual test.
Practising free online Scrum Tests.
Ok, there are several websites offering free tests. To be honest, most of them are not very user-friendly but I used them anyway.
These two were good: test-questions.com and mlapshin.com
To start, try test-questions.com
I also used mlapshin.com
mlapshin.com was rather useful. I practised here a number of times, reviewed the questions I missed and then based on those re-read certain sections of the Scrum guide.
How Much Does the Certification Cost?
It costs 150 USD. But I got a discount of 40% courtesy of Google. So if you complete the free Google Project Management certificate on Coursera, you'd get a lot of freebies to help you launch as a project manager including discounts on certifications and free Interview prep.
What Else Could Help
When you sign up on scrum.org, you are assigned a learning path. It's a list of articles and videos to help you prepare for the exams.
Test Day Tips
Make sure your internet is good and your laptop is charged.
If you are a coffee person, have some coffee before you start.
It's an open exam but time is of the essence.
Some of the questions are long (because they are scenarios).  Read them aloud. Reading aloud improves mental focus and comprehension in high-pressure situations.
That is it. It's not so tough. Honestly, you'd be fine.
Here's my badge. Now go get yours. I wish you all the best. You've got this.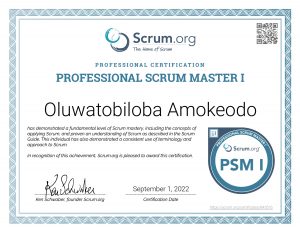 ---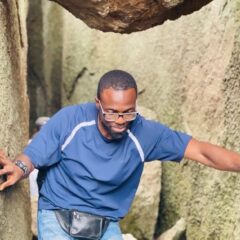 My superpower is creative engagement; whether working as regulatory affairs professional at a pharmaceutical company or as a fashion art director. Malcolm Gladwell calls people like me, "connectors".
I try to read at least a book a month, I have a green thumb (not literally) and my favourite quote ever is " remember to play after every storm".
All author posts