To become successful, you have to change your mindset. This basic truth is so difficult to confront, it sounds like nonsense. Yet everyone I know who has achieved a certain level of success has a strong mindset.
So, these small things add up. I know for sure.
Keep an Open Mind
Be conscious of your biases. We've all got them. Recognizing that you are not perfect, and neither is your worldview, is the starting point for changing your mindset.
Be willing to have your opinions challenged.
Start listening to people more. Stop talking.
Understand that your experience and background shape what you believe. Stop projecting your ideas on others so much.
Open your heart to humanity. Give everybody a benefit of the doubt.

Engage 

in 

conversations 

with 

strangers 

you 

presumably 

have 

nothing 

in 

common 

with.

Nothing means nothing except the meaning we give to it.
How this Helps:
Being Open-minded helps you come to the realization that long-held beliefs can be changed and that every aspect of your life must not be cast in stone.
Start your day by listening to positive messaging.
Try it.  I listen to Oprah (sometimes it's Jeff Bezos) in the mornings. Especially times when I have a lot going on at work or personally.
Find a successful person you respect. Like an entrepreneur or thought leader.

How this Helps:
One of my favourite quotes is, "we learn by watching others." I believe that positive messaging helps people make positive actions.

Surround Yourself with the Right Information.
Surround yourself with the right people. A significant portion of the information you process to make decisions comes from those around you.
Network with people working on being successful.
Stay away from negative news peddlers. News media profits off negative news & there's no news as good as bad news.  Being current in the affairs of the world is overrated and  I think I've done well for myself without knowing the intricacies of happenings across the world.
How this Helps:
Again, I believe we are shaped by the information we access. Negative news strengthens your bias against certain things and this ultimately influences what you do with your news.
Exercise
Physical exercise makes you more resilient but I'm too lazy to pull the facts out.
Personally, exercise improves my mood. I always feel like I've done something good for myself after exercise. Maybe it's because we all know exercise is good for our health.
Commit to at least 30 minutes of intentional physical activity.
Try this combo if you can:

Leg-raises: 5 sets of 10 repetitions (reps for short).
Body weight squats: Perform as many reps as you can for a minute.  Do this for at least 2 sets.
Move Away from Home.
Almost everything you've done in life has been influenced by your family.
Try answering the following questions.

Where do you shop for clothes?  Why?
Which of your buying habits can you trace back to your family?
Name three things you watched your parents do growing up, that you now do.
 Take Action:
You can't improve your self-esteem if you don't act on your dreams.
If you believe in something, keep chasing it.
Life doesn't happen overnight. So, be comfortable with trying things and failing.
I've been blogging for a while but I'm yet to earn money from this. However, I've learnt so many  other skills that I've leveraged in my 9-5
One day, I'm going to share my story. But don't wait to read about it.
Go work on yours.
Dwell in possibility.
---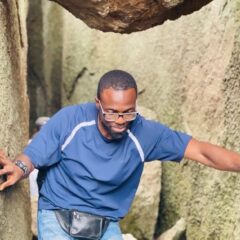 My superpower is creative engagement; whether working as regulatory affairs professional at a pharmaceutical company or as a fashion art director. Malcolm Gladwell calls people like me, "connectors".
I try to read at least a book a month, I have a green thumb (not literally) and my favourite quote ever is " remember to play after every storm".
All author posts