Chibuamam has been my friend for more than 15 years. She's a natural cheerleader; very open-minded and supports adventurous creative work.  She has two degrees: a Bachelor of Pharmacy and a Master's degree in Pharmacognosy; both with distinction.  Today, her work focuses on direct-to-patient care. She provides health and nutrition advisory to people managing hypertension using technology as her platform for impact: Youtube, Whatsapp, Instagram and Facebook. Back in Uni., she was an all-around student; participating in and winning oratory contests, writing for the faculty press, and teaching people public speaking.
I reached out to her to help me understand what it takes to be an all-around student.
Nature Versus Nature
She has always been a straight-A student.  "In Secondary school, I came first place from JSS1 to SS3; in all three terms and I had the best results in the board exams for my set."
So, it turns out that both of her parents are academics. I might be biased to think that having highly intellectual parents played a role in her academic progression. After all, a person's immediate environment has a strong influence on who they become."My parents were not strict with enforcing study habits. However, one thing my parents always did was correct us whenever we got our tenses or pronunciations wrong. Then my dad always taught us maths and somehow it became ingrained in all of us to work hard at school."
Having a Routine
I would suggest that part of CB's strategies for success is having a routine. I know this very well because she was my reading partner in year 1 and year 5. I kinda winged it every other year but those two years were high stake years.  We would read from 6.30 p.m to 10 p.m every day; almost like clockwork.
I didn't have this sort of routine before knowing her and of course, my results for both years shocked me.  I had terrifyingly good grades in some of my courses: 97 on a chemistry exam, and 85 in final year project work!
The catch is that I've always been a B student at best. But plugging into CB's routine made a difference.
Finding Work-Life Balance
She had a very vibrant social life in school. Ok, vibrant is not the word to use. But as far as nerds and bookworms are concerned, CB was Beyonce.
"Well, I was a bookworm that still wanted to experience the university. You know, that line, do not just pass through the university, allow the university to pass through you. So my belief was that even though pharmacy school was quite rigorous, I had to find a way to still have fun and create memories. In Final year, I was happy to lead the committee that planned the biggest faculty excursion ever. We spent a night at the LA Campagne Tropicana Resort in Lagos."
Prioritizing: There is Time for Everything.
Having a clear goal and roadmap is important. "I knew I wanted As in school so I paid close attention to that. I played more beginning of the semester and only when I was confident, I was ready for exams. With time, I also understood the strategy for each course and prepared accordingly for exams." she says.
Handling Failure
I believe in progress over perfection and everybody has to deal with failure.  We both failed a physiology exam in Year 2.  Medical training is crazy. If you fail an exam, In most cases, you get one more shot in the form of a resit, and if you fail that as well, you are either cut from the program or asked to repeat the entire academic year. CB says that failing that course was the experience of her lifetime.
"I cried and I prayed for a miracle. The shame and pain were out of this world. It was my first time failing but I gradually moved from being in denial to taking ownership of my failure. I read for the resit with vexation in my spirit. Long story short, I gave them the "marking scheme" on exam day and I got an A when the resit result came out."
Having a Morning Routine
CB believes in having a morning routine and recommends Miracle Morning by Hal Elrod. "The big idea is that if you're in control of your mind, thoughts, and energy every morning,  you'd be less stressed throughout the day and more focused."
Believing In God
She believes in God. "I believe we achieve more when we are more spiritual because some things in life are spiritually discerned."
Being Self Aware
As we concluded our interview, her final thought on achieving academic success was self-awareness. In her own words, " understand yourself; your strengths, your reading and learning patterns, and work with that in mind. And always aim for excellence."
Connect with Chibuamam Ilechukwu on Linkedin to learn more about her work. Or visit hypertensionafrica.com
---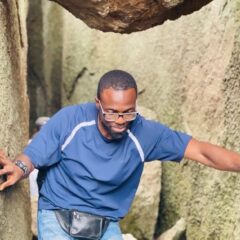 My superpower is creative engagement; whether working as regulatory affairs professional at a pharmaceutical company or as a fashion art director. Malcolm Gladwell calls people like me, "connectors".
I try to read at least a book a month, I have a green thumb (not literally) and my favourite quote ever is " remember to play after every storm".
All author posts