If you have been in a place in your life where it seems like all of your expectations are not being met, then you probably would have asked this question; why is my life not moving forward? It can be frustrating If there is a huge gap between the person we aspire to be, and the person we are.  It's worse if everything we have tried to close that gap has failed.
This article is about understanding why we feel stuck and how to get out of that situation.
Understand Why You Feel Stuck.
Trauma:
If you experience something really awful (like losing a loved one), you might lose the will to move forward in life.
Repeated Failure:
If everything you've tried has gone bad, you might be hesitant to risk failure again. Because if it always ends poorly, why bother trying? When you have given your heart out to people, and you have received nothing like love in return, you might start to feel broken. And that feeling can spread to other areas of your life; like your work.  When you don't get a promotion, you might start to think it's because something is wrong with you.
Comparing Yourself to Others:
Most of the people I know from Uni are living abroad. I would love that too for myself but it has not happened. Sometimes, people think they are stuck because they are not moving at the pace other people are.  Accepting that life is not fair is actually very difficult. Somehow, we all believe in equity. And that's a good thing. But here is what I know for sure: "You cannot run their race, you can only run yours."
You've Had a Difficult Life
"Bad things happen to good people" is another hard pill to swallow. Recently I was mugged in broad daylight and I thought about the fact that if I had been stabbed and killed, then moving to Kano would have been a bad idea. The question is, "Why do you think you are above certain circumstances?" When things don't turn out the way we expect, we can become paralysed or outraged.  You might be feeling entitled to a certain life no one has promised you.
Here's How To Start Moving Your Life Forward.
Feed Your Soul With Uplifting Messages
Read other people's stories and feed your soul with new insights through books, poetry, and religious messages. Sometimes I listen to my pastor's messages and at other times I listen to Oprah Winfrey's.
Quit Trying to Micro-manage Your Life.
Life is like the wind, it just blows and certainly will not happen based on our estimations all the time.
I never even expected to be accepted to study Pharmacy at the oldest (and best) university in Nigeria. My dream was not bigger than studying microbiology at a state university. "God can dream a bigger dream for you than you can ever dream for yourself."
Accept The Truth of Your Life
Your life will always change based on the truth in front of you. Make peace with this fact and take responsibility for the life ahead of you. Paul Kalanithi's life story exemplifies, moving ahead despite adversity. The neurosurgeon was diagnosed with terminal cancer at the prime of his life,  after years of studying at Stanford, Cambridge and Yale. Despite the news, he kept his life moving forward. I highly recommend his best selling memoir, When Breath Becomes Air.
In the book, he writes:
"even if I'm dying, until I actually die, I am still living."
Set a New Direction for Your Life.
If you regret all of your past choices, remember that you can always make new ones. However, learning from your mistakes is vital, Ask, "what did I learn?", otherwise we'll keep making the same bad choices.  Also, accept that no matter what, the past cannot be undone.  I love the way Cheryl Strayed describes that other unlived life, She calls it "the sister life". She writes:
"I'll never know, and neither will you, of the life, you don't choose. We'll only know that whatever that sister life was, it was important and beautiful and not ours. It was the ghost ship that didn't carry us."
You have to learn and grow. If you keep making the same mistakes and experiencing the same failures, try something different. Like learning. I believe learning can transform your life.
Understand Seed Time and Harvest Time.
Lastly, there is time for everything. Maybe this is the time for hard work. You might not see the results now but change is happening. One day, everything will come together.
---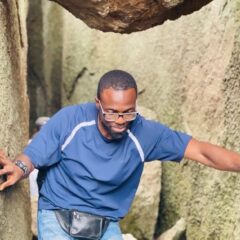 My superpower is creative engagement; whether working as regulatory affairs professional at a pharmaceutical company or as a fashion art director. Malcolm Gladwell calls people like me, "connectors".
I try to read at least a book a month, I have a green thumb (not literally) and my favourite quote ever is " remember to play after every storm".
All author posts