Tech is the new oil and everybody (I included) wants to land a job working for a tech company (recruiters, Holla). Honestly, I don't know whether it's easy or not to get a job in Tech, however, I'm certain that you can make your current job techy regardless. Here's how to leverage technology right away.  In fact, this might just be the first step to landing a job in tech,
Improve Ease of Access
Optimize Learning and Performance
Communicate your Value.
Improving Ease of Access:
If you work in the service industry, start thinking about how to make life easier for your customers. The keyword is actually customers because whatever technological innovation you come up with, it must serve your customers. So understanding who they are and how they currently interact with technology will help.
It's also important to understand that technology is the language of the new age, so it's everywhere.  No need to develop your own tech, adapt one of the tools around you and test to see whether your idea works.
If you sell food (maybe you own a food truck), you can adopt QR tech to enable access to your food service via an online menu and payment option. A lot of people brand their takeout packs and include their phone numbers to facilitate ordering. Well, what if instead of just phone numbers, you generate a QR code containing your online menu/store, that way, people can see the menu options and pay for their food online. Creating Whatsapp business links is another great way to improve access to your products.
Use Tech To Optimize Learning & Performance
I refer to this quote all the time, "when you know better, you do better." The first step to improving performance is learning and Google has a fantastic educational access program called "Google Digital Skills for Africa". I'm sure you come across their ADs all the time. There are so many free courses to choose from; start one now. One of the tech career options is product management and understanding how projects are managed can serve as a foundation for understanding product management. Adopt a project and a product mindset to your work. Learn about project execution and agile methodologies. Start using tools like Asana to manage your To-dos and track your performance.
Communicate Your Value
Value communication cannot be overemphasised. We are in the era of "show your work" and Linkedin is a great place to demonstrate what you do and how you are leveraging tech (which could be the angle of your communication).  Also, we must all learn about digital marketing because millions of people on a daily basis spend their lives in front of a device (with internet access).
Visibility is very important.  People need to know you are there – working!
To wrap up, these could be some important next steps:
Enrol and complete a 1-hour online course.
Publish a post about your work on Linkedin adopting the STAR method.
Do some online research about how people in your field are adopting technology in recent times.
---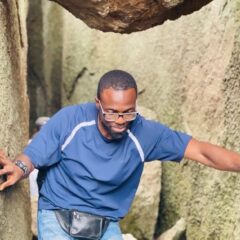 I'm passionate about growth.
I like it for others and I love it for myself.
My vision for the future is that people and businesses have the tools they need to thrive; a sound mind and a healthy body.
My favourite quote is, "What you carry is what defines you."
All author posts