What is Financial Security:
I define financial security as a state of mind where you feel no anxiety about money. It's definitely equal parts psychology and reality. Some people have enough money but are constantly worried about going broke. They are not educated about the value of the money they have saved up. So the first step to attaining financial security is setting a realistic goal bearing in mind what financial security actually looks like.
What Financial Security looks Like:
You :
Are debt-free
Are able to pay all your monthly expenses and bills.
Have an emergency fund

And your net worth grows year after year through compounding
I've done the math a couple of times and the financial security value for most Nigerians is less than 700 million Naira which is attainable by anyone who is able to save 150,000 Naira every month and target an average net ROI of 15%  over a 30 year period.
Of course, 150,000 Naira is an arbitrary number; bearing in mind the quality of life you want to live. However,  I think that if you currently earn 300,000 Naira monthly and can save 50% of that every month, you might be able to achieve financial security in the long run. That is, you'd have a decent middle-class life in Nigeria.
So, the aim would be to have that figure in savings after 30 years of work.  I used the compound interest calculator on Investor.gov
Steps to Achieving Financial Security:
Invest in becoming a better person. Your knowledge and experience are your biggest assets.
Read books:  Embrace both fiction and non-fiction books. Even if you read one book a year, you are better than someone who doesn't read at all.
Upgrade your formal skills:  take short courses online. technology is your friend when it comes to self-improvement. Take advantage of online learning platforms like Coursera that offer free courses. The perception about the value of online learning has changed significantly since the Covid-19 pandemic. So certifications might help you get noticed in a pool of candidates.
If you are an entrepreneur, you should be about continuous learning. The change you seek in your business wouldn't happen overnight, but would not happen if you don't learn new ways of working.
Learn social skills:  This can be done via social networking and travel.
Invest in financial education: Know your money. Learn about budgeting, saving and investment opportunities.  I think the most critical element as far as financial security is concerned is being able to differentiate your needs from your wants.
When it comes to material possessions, always bear in mind that you can do well, with what you have. You don't always need more stuff.
Why is self-improvement important?
It's the way to increase your value and upgrade your life. For example, just working for a better company (for example, a multinational) opens you up to opportunities that a one-man business could never.
2.  Save and Invest.
In practical terms, here's what you can do with your money.
You can download my free monthly budgeting tool
Aim to save 40% of your monthly income.
Save 60% of your savings in a more secure fund. I use Stanbic Money Market but I advise you do your research before selecting one of these fund managers. The downside is that their management fees are high but it's better than putting all your money in fintech companies.
Put 40% of your savings across fintech platforms. it's better to spread your risk across these platforms and before you invest follow treads on places like Nairaland. Some companies offer as high as 35% ROI per annum, so that balances the high management fees of money market funds.
Support my hustle:  Use my referral code for Risevest (4K7NGNQ8), Agropartnership (AMO7442) and Crowdyvest (CV-88941072).
Compounding is the game-changer.
Don't touch any money that enters your investment portfolio: capital and interests.  You have to keep track of your historical performance and rebalance your portfolio from time to time. That is, as your funds increase always check that you are maintaining whatever ratios you set for yourself. Mine is 60-40.
Finally, I don't have an emergency fund but it's something to bear in the nearest future. Also, financial security will not happen overnight. For many of us, it's going to be the reward of years of effort; doing the right things as far as money is concerned.
---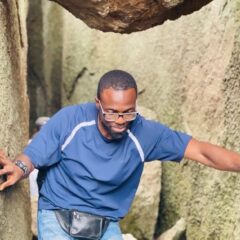 My superpower is creative engagement; whether working as regulatory affairs professional at a pharmaceutical company or as a fashion art director. Malcolm Gladwell calls people like me, "connectors".
I try to read at least a book a month, I have a green thumb (not literally) and my favourite quote ever is " remember to play after every storm".
All author posts