"If at first, you don't succeed, then dust yourself off and try again, you can dust it off and try again, try again"
The above quote is part of the lyrics of the song, Try again, by the late musician Aaliyah.  I have often wondered how people are able to get on their feet after falling. Failure is a part of life but sometimes when we fail at the things we desperately want to win at, we lose hope.
Messing Up A Dream Come True
A few years ago, I directed a photoshoot for a major fashion brand in Lagos and the project flopped. None of our ideas worked on the shoot day and so, I couldn't get out of bed the next day. I was demoralized.
After that incident, I took a break from fashion styling and I would have quit altogether if my sister (a fashion designer) hadn't asked me to direct a shoot for her a few months later. The photoshoot went well and that's the end of the story. lol.
But My point is that I tried again ( still referencing Aaliyah's song)
I also learned that failure can be shocking especially when we are not used to it. But, no one is promised a life free of problems. And So, being Human is accepting that sometimes our expectations will not be met. Looking back, I realize that I couldn't deal with the embarrassment of failing.
Brene Brown describes courage as "learning to be brave and afraid at the same time". And this was exactly how I was feeling when I said Yes to my sister's work proposal.
I like a good story. So every time I have gotten up after failing, it's not just courage inspiring my actions. It's the fact that there is a possibility of winning if I don't give up. And that's the ending I like for all my stories.
Thank you.
---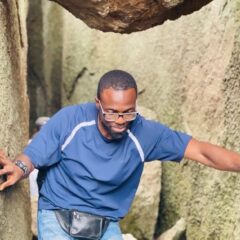 My superpower is creative engagement; whether working as regulatory affairs professional at a pharmaceutical company or as a fashion art director. Malcolm Gladwell calls people like me, "connectors".
I try to read at least a book a month, I have a green thumb (not literally) and my favourite quote ever is " remember to play after every storm".
All author posts