When it comes to learning, I think audio-visuals are just as important as print media. I use Youtube mainly for entertainment but I know it's also a fantastic platform for learning. Here are my five go-to Youtube channels for all things relating to personal development
This channel shares content bordering on maturing emotionally, developing relationships, dealing with anxiety issues, and so on.  It's basically cartoon illustrated content with a voice-over. Also, what's being shared is so insightful that I'm sure it's based on a lot of literature research.
Actually, in a world where so many motivational speakers tell us, "you just have to do it…remember why you started… (rolls eyes). It's always refreshing to find someone who just says calm down.  I love Matt's content because it is witty and relatable. He focuses on minimalism and uses that to teach important lessons on work, family, and lifestyle.
3. Ted Talks: 
Ted created a platform for people to share their knowledge on various ideas, their slogan is "Ideas Worth Sharing". However, the ideas are so diverse that you really need to search for talks around your areas of interest. I love Chimamanda's The Danger of a Single Story and her other talk, " We Should All be Feminists".
4. Prince Ea:
If you love spoken word poetry laced with motivational insights, then Prince Ea is your guy. Every one of his speeches forces you to pause and think about the way you are living your life; they are all so powerful and intense. He talks about everything from climate change to the educational system.
This is actually my go-to station for personal motivation. So really, I saved the best for last.
This guy does a mash-up of wise words from different people who know what they are talking about.
For example, if he's doing a video on finance, he's bringing together content from people like Warren Buffet, Bill Gates, Tony Elumelu. What I have also observed is that the videos I download from his page are ever so relevant.
So, I hope you check these channels out and please let me know your thoughts regarding them, in the comments section.
By the way, I realized that no female-owned Youtube channel made the cut. I've come across content from Marie Foleo, Lisa Nichols, and Brene Brown  (via Oprah's Super Soul Sunday Channel and via Evan Carmichael's channel) and I think they are great but I don't follow their content closely. I'm open to recommendations from you guys regarding female-owned self-empowerment channels I should check out.
Thanks
---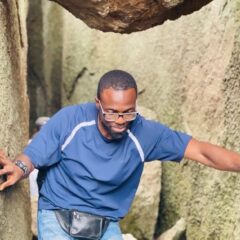 My superpower is creative engagement; whether working as regulatory affairs professional at a pharmaceutical company or as a fashion art director. Malcolm Gladwell calls people like me, "connectors".
I try to read at least a book a month, I have a green thumb (not literally) and my favourite quote ever is " remember to play after every storm".
All author posts