I came across my vision board for the year and I laughed hysterically because when I was making plans for 2020, I never would have imagined a year like this.
The Covid-19 pandemic, a passenger plane being shot down,  Kobe Bryant dying in a helicopter crash alongside his young daughter, Breonna Taylor getting shot in her apartment by policemen, Ahmaud Arbery getting killed by white folks while jogging, George Floyd being choked to death by a policeman. The Black lives Matter protests.  The ENDSARS protests. The Lekki-tollgate Massacre. This year has been a lot of things.
However, despite everything that has happened and is happening, I'm grateful to be here.  I'll share lessons I learned this year in another article, but for now, this is my self-audit.
Family and Relationship.
I hardly visited family members this year because of the pandemic. I can complain about that, but I'm happy about the fact that they are all alive and well.
I was in two romantic relationships this year. Back to back. Laughs, I'm back to being a single man. There's a story here but it's for another day.
When it came to my other relationships, I was deliberate about showing up when people needed me to. I gave more gifts this year, I took time off work to attend a friend's wedding. I showed up, even for strangers.
Personal Development: 
I'm on my 13th book for the year. Little Fires Everywhere.
It truly feels like every book I've read so far this year has had something meaningful or profound to teach me. Then again, the point of reading is to learn something, right?
If I were to choose 5 of my most memorable reads so far, they would be:
3. The Girl with The Louding Voice.
5. The Five People You Meet in Heaven.
On point 7, above, you will see "try not to do much".  I was hoping that not doing much would help reduce the number of anxiety attacks or meltdowns I suffered and maybe it would have worked if I had done less, but I didn't slow down this year. So those meltdowns came and I tried my best to weather them.
One particularly challenging period for me this year was having to attend trade dispute meetings at customs for two weeks in the thick of the lockdown in Lagos and with the confirmed cases of the coronavirus rising.
But at some point this year, I realized that, in my life, things always found a way of sorting themselves out. So I started worrying less whenever challenges came.
Finance:
I didn't make 8 million Naira this year but a lot of good opportunities came my way and I plugged into them.   Fingers crossed for 2021.
I didn't hit my savings goal- I probably saved less than I did last year. The pandemic made me realize that making memories was far more important than saving everything I had.
I'm still trying to do some home improvement, so that goal is still open.
Health
I didn't run that many miles this year. I didn't achieve any of those weight lifting numbers either. But guess what? For the first time in my life, I lost weight. 10kg to be precise. My current weight is 92kg and that is all that matters! Drops mic.
2020 has been a lot of things but, to be honest, it has been a good year for me. There's a lot to complain about but there's also a lot to be grateful for.
I don't know how markedly different my life would be without a vision board. But here's what I've found from 4 years of having vision boards:
More opportunities have come my way and I think that just writing stuff down makes it easier for me to recognize those opportunities.
---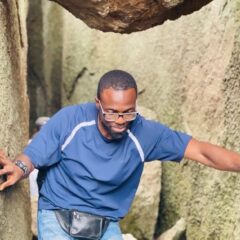 My superpower is creative engagement; whether working as regulatory affairs professional at a pharmaceutical company or as a fashion art director. Malcolm Gladwell calls people like me, "connectors".
I try to read at least a book a month, I have a green thumb (not literally) and my favourite quote ever is " remember to play after every storm".
All author posts