My friend Matiu Idang passed last year. This was quite unfortunate because this man had so much to live for.
There's a popular notion that graveyards are one of the wealthiest places in the world. They are said to contain dreams of people who have passed. True, however, I think that no matter how much a person accomplishes, they will always have new dreams. So maybe the analogy of graveyards and dreams diminishes the fact that those people may have accomplished a lot in their lifetime and could have accomplished more if they had the chance. 
When people die,  they leave many things behind. Jobs, family, money, assets. 
They also leave behind their work; the results of the dreams they pursued. 
For you, that work included a fashion brand for plus size men. 
I first came across your brand after seeing photos from a fashion show you had done. Right there and then, I knew that your work was important because it made me feel more at ease with myself as a fat person. It didn't do much for the insecurities that I had about my body but it mattered to me that someone thought it was a good idea to make clothes for big men. 
I know you would have accomplished more if you had more time. 
Whenever I think of you, I also think of Whitney. And Aaliyah and every other artist who left behind something meaningful.  I also think of Matthew Stepanek which many people reading this might have to google.
Your legacy is not always in the important work you do. Humanity's collective amnesia is truly astounding. No matter how good your body of work is, it will be forgotten; eventually. 
But Maya Angelou once said, "that people will forget what you said, people will forget what you did, but people will never forget how you made them feel." And that to me is what leaving a legacy is all about. So, I will always remember your fire emoji reactions to my Insta stories because I knew that it was you telling me I was lit! 
---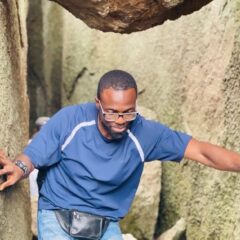 My superpower is creative engagement; whether working as regulatory affairs professional at a pharmaceutical company or as a fashion art director. Malcolm Gladwell calls people like me, "connectors".
I try to read at least a book a month, I have a green thumb (not literally) and my favourite quote ever is " remember to play after every storm".
All author posts