Your body is the vehicle for your life and the first step to achieving a wholesome life is taking care of it. I started to take exercise seriously after my mum passed from a heart-related condition likely worsened by her obesity. If your goal is to have better Health, then the following tips are for you.
Examine Yourself
Before you read  my tips for making healthy habits stick, please think over the following questions as a way of examining yourself
1. Am I taking care of my body?
2. Am I getting enough sleep?
3. Am I doing enough exercise?
4. Am I eating healthy?
5. Do I feel good about my body?
6. Do I have joy in my life?
To have better answers to these questions, you need to develop healthy habits, and here are my top tips, tried, and tested.
1. Find a Gym Close to Where you Work
Instead of heading into the traffic going home, I spend an hour at the gym doing some resistance training and catching up with friends. Being a part of a community would help you stick to new habits. I also keep my workouts at moderate intensity so that I am not tired the following day.
Resistance training 3-4 hours before bedtime improves the quality of your sleep. So, if you want to have better sleep, hit the gym.
2. Reduce certain forms of activity before bedtime.
I sleep for about six hours every night. However, I tend to struggle with falling and staying asleep. So, I don't take coffee or tea past 3 pm.
If you struggle with sleep as well then I would advise you to avoid caffeinated beverages like Coke or Pepsi at night.
Also, avoid taking Co-enzyme Q10 supplements. In my experience, the drug was keeping me up at night even though I was taking them in the mornings. I later discovered that Insomnia is a possible side effect of the supplement and that this side effect can last up to 12 hours after taking the drug.
Avoid TV at night too. Read a book instead. Or listen to some music.
3. Plan your meals for the week and keep the process simple.
I meal prep for a few days every week, But the common sense hack is to incorporate vegetables and protein into my diet.
I used to snack on a lot of peanuts until recently when I realized they are very calorie-dense. So now, I limit my intake to about 300gms a few times a week.
I also plan for junk food. Don't deprive yourself of comfort food. Otherwise, you might end up binging on them.
4. Set a weight goal and track your progress.
My goal is to achieve and maintain a bodyweight of 90kg over the long term and I track my progress with a weighing scale. There are so many factors that influence scale numbers. However, despite water weight, you should be losing weight over time.
5. Read for at least an hour every week and find a genre you enjoy.
Reading is one of the sure ways to improve your mindset. I read both fiction and nonfiction books. But I tend to have a bias for nonfiction titles; particularly the self-help genre.
If I am reading a really good book, I tend to find more time to read. Otherwise, I just read for about an hour on Saturdays.
6. Cultivate your joy.
Our lives are divided into activities that give us energy and take energy away from us. So, my advice is to have a positive joy balance.
Things that take energy away from you:
1. Anxiety
2. Unforgiveness
3. Procrastination.
Dance gives me Joy so I try to dance in the privacy of my bedroom at least once a month. You can't avoid situations or people that take energy from you but you can limit your interactions.  In the same vein, surround yourself with people that give you joy.
Furthermore,  have time to rest and relax, you will feel rejuvenated.
To conclude, remember that you are in this lifestyle for the long haul. I weigh about 100kg which means that I'm either obese or overweight. Still, I focus on improving my health on a daily basis. You gain points for holistic health over a long period of time.
---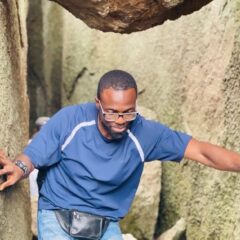 My superpower is creative engagement; whether working as regulatory affairs professional at a pharmaceutical company or as a fashion art director. Malcolm Gladwell calls people like me, "connectors".
I try to read at least a book a month, I have a green thumb (not literally) and my favourite quote ever is " remember to play after every storm".
All author posts