As Chimamanda Adichie alluded in her 2019 commencement speech at the American University (AU), we should try to change a tiny bit of our world. That is, within our immediate reach, we must commit to doing good.
This idea is not limited to improving the environment. It also involves improving the human experience and existence. So, below I share my take on four very important points on changing the world, raised by Adichie in that speech.
Do Something
"Do something is to try", says Adichie and In my opinion, this means committing to doing something positive for those around us. I could be donating some money to a local charity or spending time tutoring or mentoring a young person.  It also means to constantly look for what people need or what could make the lives of others better,
If You Can't Make it Better, Don't Make It Worse
Whether you work in the private or public sector, somehow, your work impacts others. So it's important for everyone to humanize their work and think of how their actions affect others. I also think that you should try to abide by the world's moral code. Sometimes obeying the rules can be difficult, but don't be the person that is always seeking to break them.
Know When to Walk Away
Stupidity is when you put yourself in a  compromised position. This means when you make a choice that turns out to be a very bad one and this ties to knowing how to react to quarrels.
There is a story in Iyanla Vanzant's book, The Spirit of A Man, that highlights this point.  A man was driving home at night from a party and unfortunately, rear-ended a car waiting at the traffic lights. The three guys in the car he bumped into were very furious. He apologized but they were not having it. So, an argument started and strong words starting flying afterwards. The guy felt threatened because he was up against three dudes, so, he decided to bring out a switchblade to defend himself. Well, at that same moment, a police car arrived and the picture changed! The guy got arrested for attempted assault.
Know When To Choose Silence
The words of your mouth control your life. So, it's important to be able to keep some things under your hat.  Again, silence is better when:
the intention of your speaking is to maim,
you can't verify that what you are about to say is true,
or speaking will be breaking a friend's confidence (the only exception is, of course, is when the said friend has broken the law).
-Tobi Amokeodo
---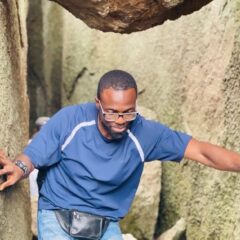 My superpower is creative engagement; whether working as regulatory affairs professional at a pharmaceutical company or as a fashion art director. Malcolm Gladwell calls people like me, "connectors".
I try to read at least a book a month, I have a green thumb (not literally) and my favourite quote ever is " remember to play after every storm".
All author posts