Hello,
I believe journaling is a brilliant way to articulate your thoughts. It is good for improving your problem-solving abilities. Everyday life teaches us lessons and I know that if we can articulate those lessons we will be able to lead better lives. Here are a few of the things I learned today.
Corruption is a big issue in Nigeria. And it is everywhere, not just in government. In order to deal with corruption, one has to be strategic. Since corruption in Nigeria is so perverse, you can be overwhelmed. I don't know how to fight corruption yet. But what I know for sure is that it might be dumb to wage war on corruption without the knowledge about how to defeat it. you will be crushed.
You should not just consume social media, you should also contribute to the market. Be a content producer.
I listened to Oprah on my commute to work this morning. I think listening to a podcast or an audiobook sets you up for a better day.
Don't let your lack of faith limit you. Life is about laws. Someone once told me that even if you do not believe in brick walls, if you run into one, you are going to hit your body hard. So just do it. Sometimes, natural laws in motion are enough.
Offer gratitude especially when something good or pleasant comes your way.
Give. Be Benevolent. Some people (drivers) are so stingy that they will contend the right of way with other drivers while driving. The road is not even yours in the actual sense of the word.
On a personal note, even though I had a rather hectic day. I was able to manage my emotions better. I am usually cranky in the afternoons. laughs. But, as I said, journaling is helping me articulate my thoughts better. If my mind is not so crowded, I would have some more space to let people in.
Thanks for reading.
Eager for tomorrow.
-Tobi Amokeodo
-Tobi.
---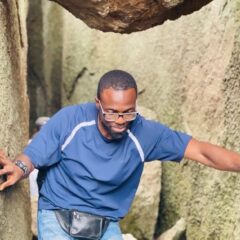 My superpower is creative engagement; whether working as regulatory affairs professional at a pharmaceutical company or as a fashion art director. Malcolm Gladwell calls people like me, "connectors".
I try to read at least a book a month, I have a green thumb (not literally) and my favourite quote ever is " remember to play after every storm".
All author posts